Scouts To The Rescue 1998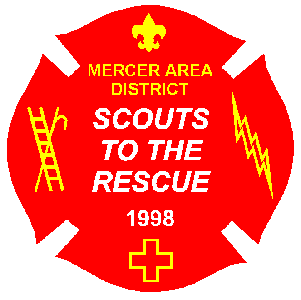 ---
The Mercer Area District "Scouts To The Rescue 1998" was held on Saturday, 7 November 1998, at the Captain John T. Dempster Sr. Fire Service Training Center in Lawrence Township, New Jersey.

Attending were:
21 Boy Scout Troops
28 Cub Scout Packs
548 Cub Scouts
104 Cub Scout Leaders
416 Cub Scout Family Members
151 Boy Scouts
29 Boy Scout Leaders
9 Boy Scout Family Members
12 Fire and Rescue Organizations
and over 100 Staff Members
---
All photos on this page are courtesy of Papier Photographic Studios ( 609-924-0560 )

You can see small images of all the photos on the Photo Navigation Page (83K). Just click on a small image to see the large view.
---
Activity Areas
Cub Advancement - 16 Stations

Emergency Preparedness Merit Badge - 6 Stations
Photo: Man-Lowering Station (Large=110K) (Small=8K)

Fire and Rescue Demonstrations Fire Safety Merit Badge - 8 Stations

Knot Tying - manned by Sea Cadets from the Trenton Division

Red Cross Blood Drive
Over 40 Donors

Refreshments

Videos - 12 compelling presentations on fire safety and emergency preparedness
Real-life disasters included Earthquake, High-Rise Fire, Forest Fire, Flood, & Hurricane

Special Stations
9-1-1 Dispatch Headquarters
Donor Awareness - Sharing Network
Electrical Safety Trailer - PSE&G
Fire Extinguisher Operation - West Trenton Fire Co.
Smoke House Trailer - Prospect Heights Fire Co.
Webelos Readyman Activity Badge - 4 Stations
117 Webelos completed this all-day experience

Links
---
Return to Mercer Area District Event Reports Page

This page last revised on : 23-Jul-2003
---